The National Safety Council has deemed June as National Safety Month, every year thousands of organizations across the country work to raise awareness of what it takes to stay SafeForLife.  This month focuses on reducing leading causes of injury and death at work, on the roads, and in our homes and communities.
We will make a weekly post through the month of June with topics that pertain specifically to the work place in the spirit of National Safety Month and in an effort to raise awareness within IFS and the communities we serve.  Temperature are on the rise, therefor our first topic is heat stress.  The white paper below discusses signs and symptoms of heat related illnesses and most noteworthy, preventative measures to ensure we stay hydrated.
Heat Stress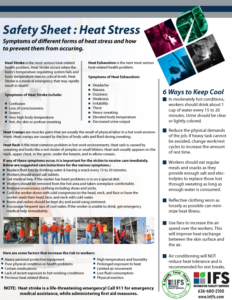 Click The Image to View the White Paper
For more information on Heat Stress or other issues, call 636-680-2100 and ask for Mike S.