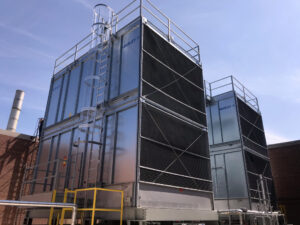 IFS is pleased to announce that we have earned the MCA – Eastern Missouri Outstanding Mechanical Installation Award based on our work on the St. Louis County ROOS Building cooling tower project. Accepting the award on behalf of IFS were Gary Tidwell (Project Manager), Jeff Ridenour (Foreman), Josh Foland (CAD Engineer), and John Rundquist (IFS President).
"This project was a tough one, that required an extensive amount of precise planning. Everything from the lift itself, to the fabrication of each piece of piping had to be perfect to pull this off. Thanks to our highly skilled project team, the job was completed exactly as planned.". – John Rundquist
Congratulations to Gary, Jeff, Josh, and the entire ROOS Building project team!