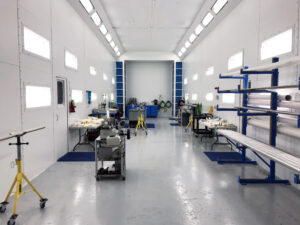 Integrated Facility Services is pleased to announce opening of our newly renovated, state of the art, stainless steel fabrication facility. Our existing facility was upgraded in an effort to support the growing needs of our industrial clients. This facility was established to assure cleanliness of piping assemblies and to avoid carbon steel contamination of the stainless pieces.
This segregated area is equipped with the latest high purity orbital welding equipment, as well as cutting and facing tools that give us the ability to meet the most stringent specifications.
The new area is approximately 1500 sq. ft., which will allow IFS to facilitate any stainless steel fabrication required. The renovation not only included complete retooling, but also features new lighting, upgraded ventilation and the addition of an oxygen monitoring system.
In addition to stainless steel fabrication, the space also serves as a fabrication area for BCF PVDF Piping for USP water systems.
Welding procedures and specifications can be quickly developed and instituted for your varying needs.
"Innovation is one of our Core Values, and we feel that this upgrade is a major step forward in allowing us to better serve our customers' needs." John Rundquist – President
In addition to process piping stainless steel fabrication, Integrated Facility Services offers full control validation or assistance with control validation for pharmaceutical production facilities. Our systems offer multiple protocols for integration into HVAC and production operating systems in order to provide a system that is 21 CFR Part 11 compliant. Our systems provide extensive alarming, trending and reporting with unlimited storage which is vital for critical environments. Jobs are completed on time and on budget when the engineering, controls and mechanical work are facilitated by the same company which has been proven year after year at IFS.
Contact Jerry Baumann or Malcolm Sweet to discuss your next stainless fabrication or B31.3 project. For information on our validation services, call Brian Schuhmacher.
 Call Today 636-680-2100
VIEW & DOWNLOAD WHITE PAPER HERE